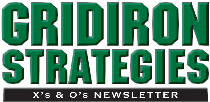 Gridiron Strategies Dec 2013 - Jan 2014
© Copyright 2013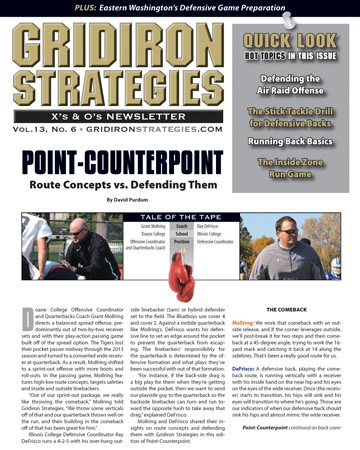 A New Look at the Zone Read
Defense: Technique, Tackling and Pursuit
The Importance of the Proper Defensive Line technique
Using Your Tight End in the Zone Read Game
Gaining Big yardage with the Jet Sweep
Ventura College Wide Receiver Blocking Drills
What a Rush! Defensive Line Drills to Improve Your Pass Rush
Are Hamstring Injuries Preventable?
Defensive Pursuit Drills
USING THE PUNT BLOCK AS A WEAPON
MORE ISSUES
X's & O's FROM THE VAULT
4 Midline Right Series
Craig Harrison Varsity Assistant Coach, Central Montcalm High School, Stanton, Mich.
DIAGRAM 1: 4 Midline Right, Vs. 4-3 Cover-2. The midline option has been one of our most productive plays. We ran it as a double-option with the FB and QB attacking either the 2- or 3-technique.The play-side OT and TE cross-block, with the OT blocking out on the end. The play-side OG rips to the Mike LB. The center and backside OG combo block to the Will LB. The backside OT must control the B-g
MORE X's & O's
SIGN UP FOR THE
PLAY OF THE WEEK
NEWSLETTER
FEATURE ARTICLES
A New Look at the Zone Read
by Chris Metcalf Auburn High School (AL)
The zone read has become a popular play over the past few years. Although mostly perceived as a new concept, offenses have been reading certain defenders since the inception of the game. Offenses that run mid-line, veer, and other types of options all read particular players on the defense as the play progresses. The main idea is that by reading a defender, the offense will let him dictate the play. The player being read can never be right because whatever action he takes, the offense will re ...more...



OFFENSE
Ventura College Wide Receiver Blocking Drills
Steve Mooshagian Head Coach • Ventura College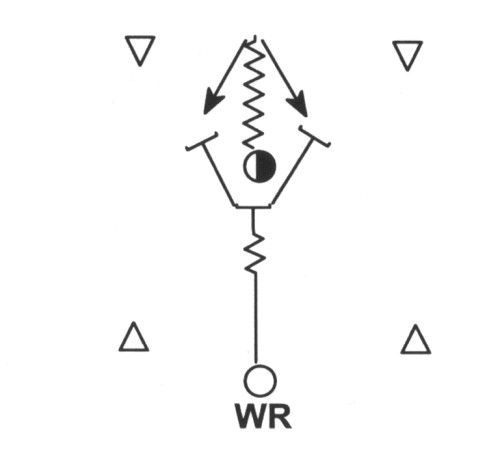 We expect our wide receivers to not only run detailed and precise routes, but be effective blockers. Our wide receiver philosophy consists of:

1. Giving maximum effort.
2. Knowing your assignments.
3. The desire and willingness to block &nbs ...more.



DEFENSE
The Importance of the Proper Defensive Line technique
Cornelius Coleman Assistant Coach Averett University
At the high school level, the successful athletes are able to use their natural ability to dominate a football game. But at the collegiate level, every athlete possesses roughly the same playing ability with the opportunity to enhance their strength, endurance, and speed through a regimented collegiate strength and conditioning program. This makes it essential that defensive linemen know the types of proper techniques to use in an attempt to s ...more.


SPECIAL TEAMS
USING THE PUNT BLOCK AS A WEAPON
Thomas Balkcom Special Teams Coach • Savannah State University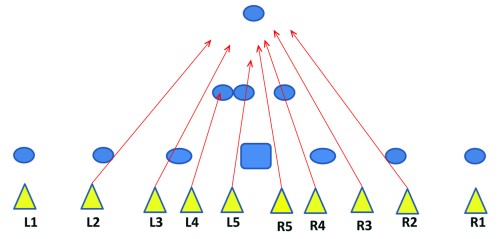 The philosophy I believe in is that your punt return unit should be feared more for its potential to block a punt than for its ability to return a punt for a touchdown. There is no other single play in football that can change the momentum or complexion of a game like a blocked punt. The worst sound in football for an opponent who has just been ...more.



STRENGTH & CONDITIONING
Are Hamstring Injuries Preventable?
Dr. Michael Yessis President • Sports Training, Inc.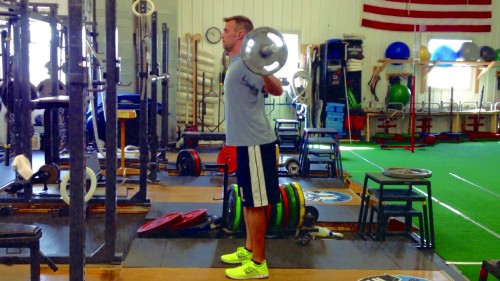 What causes hamstring injuries? Hamstring injuries in football are quite common and most often debilitating. Many great players have been sidelined because of nagging hamstring problems. In fact, it is hard to find a team that does not have or will not have a player experience a hamstring injury.

Many teams lose great players for weeks ...more.


DRILLS
Defensive Pursuit Drills
J. Brian Wilmer Defensive Coordinator • Azusa-Pacific University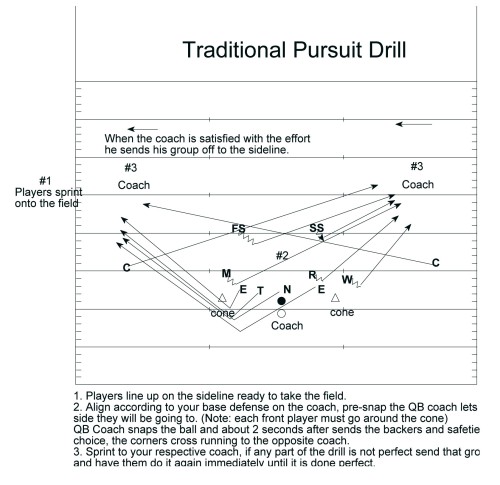 The ability of a defense to pursue to the ball is their lifeblood. Pursue is defined as: to follow in order to overtake, capture, or defeat. Every defense needs to be trained to fulfill these terms if they are to be successful. Defenses are responsible for getting the ball back to the offense as quickly as possible. Training a defense to pursue ...more.
MORE X's & O's
Environmental Dynamics
We have just returned as a defensive staff at Cornell from a professional development trip visiting the United States Naval Academy football program.  First things first, every football coach should attempt to experience the Naval Academy in person as well as Annapolis in general; it is truly an amazing institution and college town.  Like all …
Triple Load Play
  Load Scheme Assignments X: Cut off block BST: Scoop BSG: Scoop C: Ace (with PSG) PSG: Ace (with Center) PST: Veer to middle ILB Z: Stock near deep defender BSA: Get into pitch relationship (no motion) B: Dive track (inside leg of PSG) PSA: Load ILB to Safety Q: Mesh with B-back; either give …
An Effective Pre-Practice Routine For Skill Players
With all the activities a coach is responsible for, it helps to have an established pre-practice routine to keep practices run smoothly. We have ascribed to the philosophy of warming up through the use of low impact football specific drills that increase in intensity as the players loosen up. This time also allows you to …
Brick by Brick Approach to Kick Return Success
Anyone who has read some of my previous posts is aware that I approach my coaching, both in the kicking game and defensively, as a step-by-step, "building" process. Personally, my mind functions best in a sequential, chronological way, so I'm able to best teach that way. In coaching our kick return unit, I've applied this …
Coaching the Gap-Exchange vs. the Zone Read
In these modern times, the zone read has become one of the most heavily discussed plays in football. Many collegiate and high school offenses are built around it as their base offensive play, while many other systems have incorporated it as a change-up to their traditional arsenal of run plays. The bottom line is that …
Home | Magazine | Back Issues | Shopping | Subscribe | Contact

Girdiron Strategies
P.O. Box 14007
North Palm Beach, FL 33407

1-800-537-4271 option 4

Copyright 2014, Gridiron Strategies
a division of
AFM Media, LLC.
All Rights Reserved.