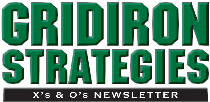 Gridiron Strategies Dec 2013 - Jan 2014
© Copyright 2013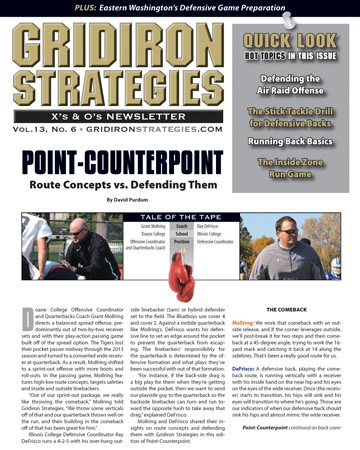 POINT-COUNTERPOINT - Route Concepts vs. Defending Them
Letter from the Editor
Defending the Air Raid Offense
The Quick Passing Game
The Importance of Pre-Game Nutrition
RUNNING BACK BASICS
THE INSIDE ZONE RUN GAME
The Stick Tackle Drill for Defensive Backs
The Bounce Package
EASTERN WASHINGTON'S DEFENSIVE GAME PLAN
Is Your Team Strength Training To Develop Better Athletes?
Vince Lombardi on Winning Part I
MORE ISSUES
X's & O's FROM THE VAULT
QB Throwback
Dave Loebach Assistant Coach, St. Joseph High School, St. Joseph, Mich.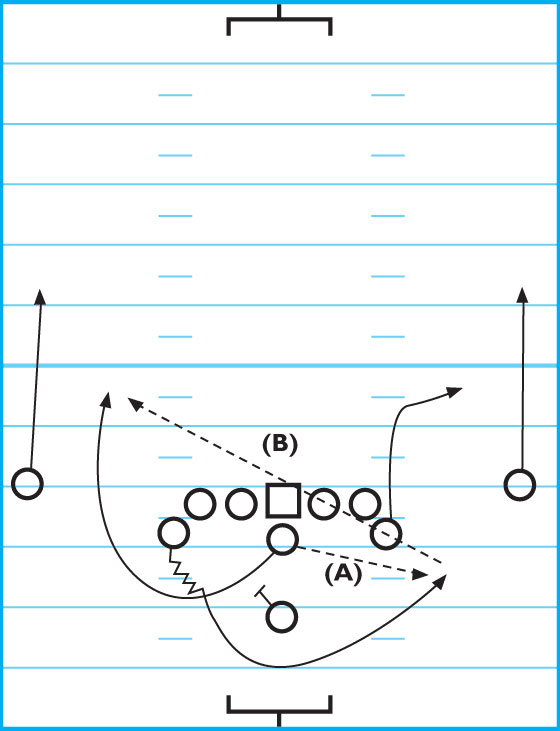 DIAGRAM: The left wing back goes into motion prior to the snap. The QB receives the snap, pivots and throws either a backward pass or lateral to the wing back. After getting the ball to the wing back, the QB takes off and runs a pass route to the left flat. The wing back passes to the QB.
MORE X's & O's
SIGN UP FOR THE
PLAY OF THE WEEK
NEWSLETTER
FEATURE ARTICLES
POINT-COUNTERPOINT - Route Concepts vs. Defending Them
by David Purdum
Doane College Offensive Coordinator and Quarterbacks Coach Grant Mollring directs a balanced spread offense, predominantly out of two-by-two receiver sets and with their play-action passing game built off of the spread option. The Tigers lost their pocket passer midway through the 2013 season and turned to a converted wide receiver at quarterback. As a result, Mollring shifted to a sprint-out offense with more boots and roll-outs. In the passing game, Mollring features high-low route concepts ...more...



OFFENSE
The Bounce Package
Rich Hargitt Passing Game Coordinator and Receivers Coach Ashbrook High School (NC)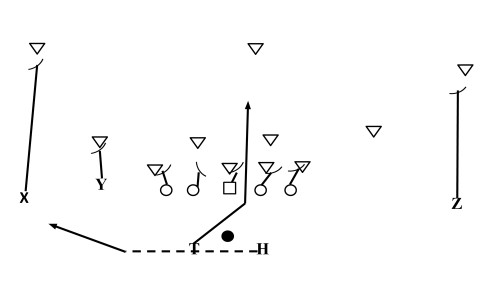 This package uses the H-Back in a new position in pre-snap motion to confuse the defense.
A college coach recently convinced me that we needed to add some motion to our offense. We do not motion much because we prefer to operate at a fast tempo. However, we realized we needed some new wrinkles. The Air Raid Offense is primarily ...more.



DEFENSE
Defending the Air Raid Offense
Curt Block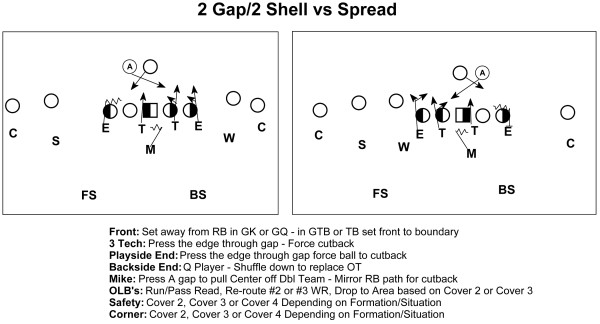 Having the right front and coverage is critical to defending the four-verticals package.
The increasingly popular air raid offense presents a predominantly short passing game, an attack that creates matchup problems in space, an often disguised running attack, and often lights out numbers.

The high-powered, pass-first air raid play, exhibited by such schools as Texas Tech and Washington State, has generated a buzz acros ...more.


SPECIAL TEAMS
MAKING THE MOST OF YOUR SPECIAL TEAMS
Tom Watts Head Coach and Matt Brown, Former Tight Ends Coach Ohio Wesleyan University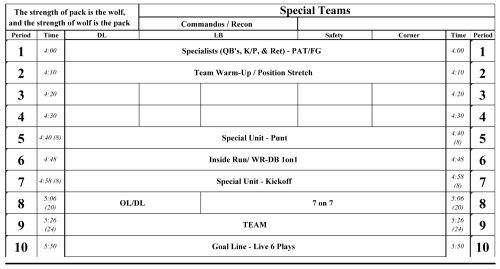 Football coaches spend countless hours researching new techniques and schemes that they can teach to their team to increase their winning percentage. We have a great example this year in the NFL with what the San Francisco 49ers did with their quarterback, Colin Kaepernick, and the Pistol Offense. All of the adjustments you make to your schemes ...more.



STRENGTH & CONDITIONING
Building a Strength Program From the Ground Up "A Work in Progress"
Scott Safe FootballPower.net
I've been a strength coach, weight equipment entrepreneur and speaker for 30 years now, and I consistently get told by high school coaches, "I can never have a strength program like yours". Well, the following story is about a real time "work in progress" at Randolph High School in Randolph, Minnesota, and football/strength coach Aaron Soule. Ra ...more.


DRILLS
The Stick Tackle Drill for Defensive Backs
Gavin Fitts Defensive Backs and Special Teams Coach Framingham State University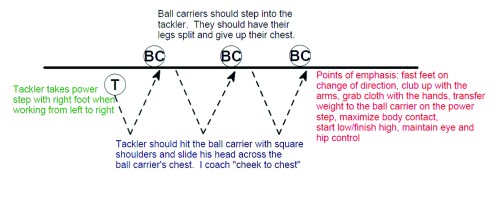 I got this drill from our Defensive Coordinator, Jeff Moore, a 2012 finalist for the Division III football.com's Coordinator of the Year. His defense has led us to a .759 winning percentage since his arrival in 2011. While he is always on the forefront with regard to defensive scheme and philosophy, he is also a big believer in drill mastery and ...more.
MORE X's & O's
12/13 TRIPLE (LB CALL)
LB Call: We use this when we want to block the "regular" Pitch Key defender in order to give the defense something more to think about; instead of reading the OLB as #2, the QB will read the Safety to his side as #2 (Pitch Key). Views (26)
Pairing Zone Read and Power Read to Attack Across the Defensive Front
The read game allows the offense to attack the defense where they become weakest based on post snap keys. The power read allows for a gap scheme read concept that attacks inside and outside in one direction at the same time. The zone option allows for an A-Gap to A-Gap inside run that can hit …
Ideas to Test in Spring Practice
Spring practice is a time for coaches to develop their players in every way without the pressure of real games.  Most importantly, the fundamentals (blocking and tackling) of the game have the opportunity to be retaught and emphasized while creating a culture of physicality and toughness.  Finally, the spring allows for the opportunity to try …
The 6-Step Program To Becoming A Successful Defensive Lineman: S.O.P.
For this report I decided to write about how I teach defensive linemen to be technicians and to be fundamentally sound, so they can become the best players that they can be physically and mentally. On the first day of pre-season camp, I give the defensive line something I call the S.O.P. (standard operating procedure) …
3 Quick Drills for LBs ? Pass Rush
As I move forward with these blog postings, I'd like to focus on three "quick" drills you can use to get work on a specific part of the game. This month, I'm including three drills I use with my ILBs to work on rushing the passer – a skill which is frequently overlooked in ILB …
Home | Magazine | Back Issues | Shopping | Subscribe | Contact

Girdiron Strategies
P.O. Box 14007
North Palm Beach, FL 33407

1-800-537-4271 option 4

Copyright 2014, Gridiron Strategies
a division of
AFM Media, LLC.
All Rights Reserved.