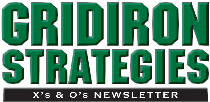 Gridiron Strategies Aug-Sep 2013
© Copyright 2013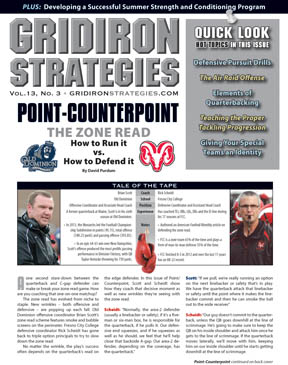 Air Raid Ground Game
Letter From The Managing Editor
Advanced Pursuit Drills
Marist Special Teams Drills
The Need for Speed
Remain Calm
Blitz Building
How to Improve Technique for Your Wide Receivers
Point-Counterpoint: Pre-Snap Reads
Tracking Practice Data Will Improve Your Defense
MORE ISSUES
X's & O's FROM THE VAULT
Option Right, Reverse
Dave Loebach Special Teams Coordinator, St. Joseph High School, St. Joseph, Mich.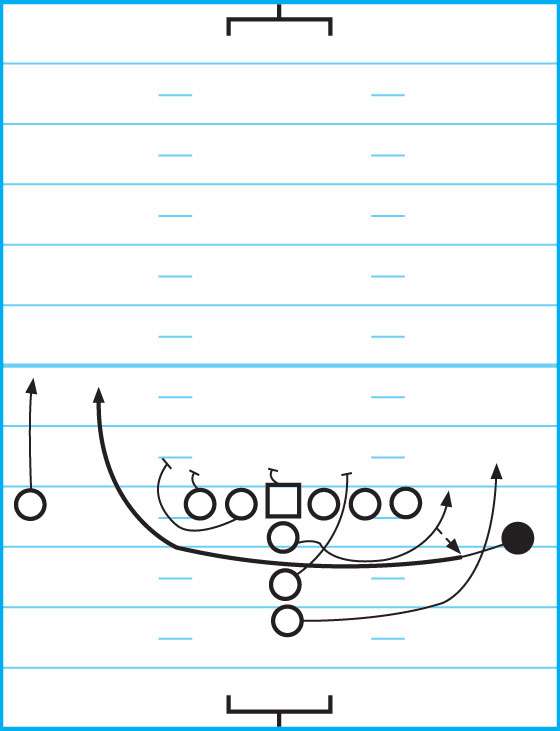 This play can be set up great if you often run the option to the right with the Z receiver utilizing crack blocks. From a pro-right I-formation, Z goes into motion. The QB runs to the right, selling an option play. QB fakes a dive-play handoff to the FB and continues to run right as if running an option play. The motion man (Z) cuts between the QB and the RB on his move toward the left side of
MORE X's & O's
SIGN UP FOR THE
PLAY OF THE WEEK
NEWSLETTER
FEATURE ARTICLES
Point-Counterpoint: Pre-Snap Reads
by David Purdum
Point-Counterpoint: Pre-Snap Reads
The no-huddle, 'check-with-me' offense has turned the pre-snap game into a frantic chess match with plenty of poker also being played before the play clock hits zero.

"It really is a chess match. You're waiting for them to move, they're waiting for you to move," said Nate Cochran, first-year offensive coordinator at Alma College and fan of forcing defenses to show their hand before the snap. "Sometimes you get the bear; sometimes the b ...more...



OFFENSE
Air Raid Ground Game
Rich Hargitt Passing Game Coordinator and Receivers Coach • Ashbrook High School (NC)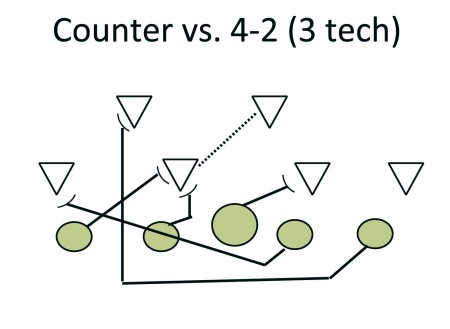 By following specific blocking responsibilities, the run game can be effective in the air raid offense.
The Air Raid offense is a system that features a great deal of pass-first mechanics and timing. The majority of the practice time and "scheme" time is spent on the passing game and so the offense rightly gets the moniker of a pass- ...more.



DEFENSE
Blitz Building
Chris Kempton Defensive Coordinator • Bates College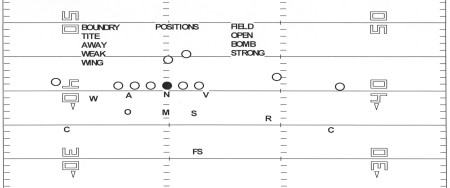 Blitz Building The 3-3 stack defense with multiple blitz packages can cause confusion for any offense.
Last fall, Bates College finished #1 in the country in Division III in turnover margin which was truly a team statistic. We made the decision to switch to the 3-3 stack defense four years ago and have become a true ball hawking defensive unit. This past season, we finished with 32 takeaways in 8 games and scored four defensi ...more.


SPECIAL TEAMS
HOYA Special Forces - Having an Identity For Your Special Teams Units
Kevin Doherty Defensive Backs and Special Teams Coach • Georgetown University
Complementary special teams units must work together to maximize their potential.

How do you improve special teams without changing the amount of time you commit to it in practice and meetings? The best answers to tough questions are generally very simple. Here are our answers:

#1 - Create an identity t ...more.



STRENGTH & CONDITIONING
DEVELOPING A SUCCESSFUL SUMMER STRENGTH AND CONDITIONING PROGRAM
Fred Eaves Strength and Conditioning Coach • Battle Ground Academy (TN)
Summer is the most critical time of the year to develop speed, strength, and explosiveness.
Designing a summer strength and conditioning program for your players is the focus of every high school coach in America this time of year. The summer program is the most critical time of year for developing speed, strength, and explosiveness. Condi ...more.


DRILLS
Advanced Pursuit Drills
Rob Eggerling Associate Head Coach and Defensive Coordinator Saint Anselm College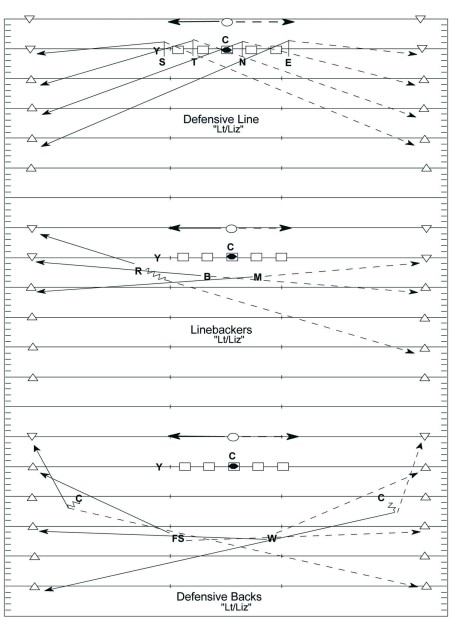 Advanced Pursuit Drills - Teaching the proper pursuit angles should lead to improved tackling.
So much of the game is based on speed and agility that everyone is trying to match player against player. But the proper technique of playing the angles and keeping the ball on the appropriate shoulder is critical. The importance of c ...more.
MORE X's & O's
Fit the Screen Play
A year ago, as a pressure team on defense, we were getting hammered by the screen play. In one of our biggest games of the season, against one of our biggest rivals, we gave up a screen play for a 35-yard touchdown and another for a 70-yard touchdown in the same game. Those two scores …
Trust Them
Last Saturday, our team played in the ECAC North Atlantic Bowl. This was our fifth consecutive postseason appearance, which is a heck of an achievement for our players. At our level, there are almost 250 teams competing for one national championship. Of those 250(ish), 32 make the NCAA Tournament, and another 12-14 play in ECAC …
Maximizing Practice Time With Two-Way Players
Our staff feels that the results of the game are in direct relationship to how you practice. As such, at Meade High School we make practice planning a major emphasis within our off season staff development. One of the main things we do at off season clinics is try to figure out ways to improve …
On the Road Again
The recruiting on-the-road "contact" season has begun. As I wrapped up the first home visit of this time of year tonight, I was struck once again by how much fun it is to have the opportunity to play a part in the building of a program and Cornell team 128 in 2014. Having been blessed …
Shedding Light on a Frequent Visitor
"Who is that guy?? I?ve been getting that question on Friday nights for 20 years. A lot of Friday nights while we are warming up, Coach Steele Harmon will come out on the field to visit with me. It is one of the best things that can help me get ready for a game. It …
Home | Magazine | Back Issues | Shopping | Subscribe | Contact

Girdiron Strategies
P.O. Box 14007
North Palm Beach, FL 33407

1-800-537-4271 option 4

Copyright 2013, Gridiron Strategies
a division of
AFM Media, LLC.
All Rights Reserved.