Gridiron Strategies - is a publication written by american football coaches for american football coaches at all levels of competition
---
Current Subscriber first time here? Click
Here
to set up your password.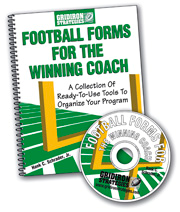 Back
|
Printer Friendly
|
Email Article
©
October, 2007
Hide Play
by Phil Hayford
Head Coach, Shorecrest Prep School, St. Petersburg, Fla.
DIAGRAM: The linemen break the huddle and walk sho ...The full article can only be seen by subscribers.
Subscribe today!

Current Subscriber first time here? Click Here to set up your password.

NOT A SUBSCRIBER?
Subscribe now to start receiving Gridiron Strategies magazine PLUS get INSTANT unlimited access to over 10 years of back issues including over 800 articles and 2000 diagrams ONLY available at www.GridironStrategies.com Subscribe Now

Search GridIron Strategies:
GridIron Strategies Newsletter: