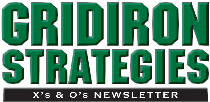 Overwhelming the Opposition - An Inside Look at the Up-Tempo Offense

Back
|
Printer Friendly
©
August, 2014
by Henry Stanford
Assistant Head Coach and Offensive Coordinator Hiram College
Players that can play multiple positions increase your chances of success with the up-tempo offense.
The up-tempo offense can place a lot of stress on a defense. The defense has to worry about substitutions, formations, and locating key players while attempting to get lined up. This style of offense places stress on coaches and presents an overwhelming task. Coaches have to determine the personnel, make calls, identify formation strengths, and teach their players to have eye discipline while under stress and/or fatigue. This will focus some base concepts of the up-tempo offense and the ways it can overwhelm an opponent.

In ...The full article can only be seen by subscribers.
Subscribe today!

Current Subscriber first time here? Click Here to set up your password.

NOT A SUBSCRIBER?
Subscribe now to start receiving Gridiron Strategies magazine PLUS get INSTANT unlimited access to over 10 years of back issues including over 800 articles and 2000 diagrams ONLY available at www.GridironStrategies.com Subscribe Now

Home | Magazine | Back Issues | Shopping | Subscribe | Contact

Girdiron Strategies
P.O. Box 14007
North Palm Beach, FL 33407

1-800-537-4271 option 4

Copyright 2015, Gridiron Strategies
a division of
AFM Media, LLC.
All Rights Reserved.